Hooray! It's time to get some sun and take relaxation and self-care to a new level! We've partnered up with Yoga Multimedia to share an exciting experience of travel, yoga and making new friends. Follow along with this travel journal as one of us Dads (Rob) takes some time away to regroup and try a new type of travel: traveling for health.

Please be sure to pop over to our Facebook page and Instagram account for extra bonus pics and moments, as there'll be some fun stories and such during the beach yoga retreat experience.
(scroll down for travel journal updates, as they update at the bottom of the page starting February 7, 2018)
Beach Yoga Retreat on Isla Holbox
Located just off the Yucatan Peninsula of Mexico, Isla Holbox is a tiny stretch of land that not many people know about, hence it's the perfect spot to hold a yoga retreat. We'll be here for five days, doing several yoga sessions each day. We'll have some group meals, time to connect and get to know each other, including our awesome instructors, and we'll have time for exploring or relaxing on our own.
Give Yoga Multimedia a follow on Facebook for updates and opportunities for my yoga adventures. And if you'd like to follow the yoga retreat instructors on Instagram you can find them here:
Joanne Matson – White Salmon, Washington
Victor Varana – Tulum, Mexico and other locations around the world
Accommodation on Isla Holbox
During the beach yoga retreat with Yoga Multimedia, we'll be staying at the Hotel Villas Flamingos. A boutique style beach hotel, it's not huge but it's got everything we need to relax and enjoy the sun and waters of Isla Holbox.
Travel Journal: yoga retreat and exploring Isla Holbox
Check back over in these first few weeks of February for updates during the beach yoga retreat. I'm sure that in addition to working on my own physical health that I'm going to learn some things about myself too. Who know, I may just get a bit vulnerable and share what I discover.
Stopover in Playa del Carmen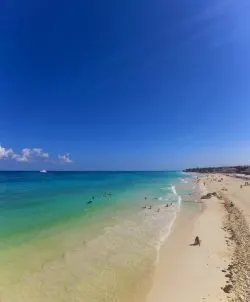 Because Isla Holbox requires a ferry and also to make sure that I could arrive before the beach yoga retreat began, I have a night in Playa del Carmen at the Club Yebo Hotel. It's just off the beach and convenient to Cancun, Akumal and Tulum, so is the perfect fit for my solo time on the Yucatan.
While here I'll be doing some snorkeling, having great Mexican food, and hopefully checking out one of the nearby cenotes. Last time I was on the Yucatan I was able to snorkel through the Cenotes Dos Ojos near Playa del Carmen. Hopefully I can check out at least one more on my short stopover in Playa del Carmen. (actually my plan rocks and includes a bunch of awesome sights!)
Practicing Yoga on the beach
This is going to be an experience. Walking on the beach, lying on the beach, and swimming are how I usually pass time on the sand, so this is going to be very new to me.
Activities on Isla Holbox
The full plan of what we'll be doing in our down time isn't finalized yet, but know that there'll be time in or on the water, a lot of beach walking, probably some hammock time, and hopefully some beautiful wildlife encounters. You'll just have to keep checking back…
Exploring Cancun to Tulum – activities and sights
Arrival in Cancun
I took the red eye to Cancun. It was not my favorite way to travel but it got me into Cancun at 7:00 am. Since I had a layover in Los Angeles between Seattle and Cancun I did get to meet up with my good friend for ramen and chill. Really, one of the great things about having friends all over is the ability to have quick, meaningful visits.
Once in Cancun, customs was super fast and easy since we were the first flight in of the day. The airport was not complicated and since I already had a rental car confirmation, I didn't have to deal with any of the timeshare pitches that tourists face once outside.
Tip: if you can arrive in an international destination super early, you'll breeze through customs. Also, being able to bypass sales pitches makes your vacation start sooner and be less stressful.
Renting a car with Alamo
When I landed in Cancun and was through customs, I exited to the standard ocean of timeshare scalpers and salespeople. In most Mexican tourist airports you'll experience this. Thankfully I already had an Alamo Rent A Car reservation and was able to head directly to the desk, ignoring the barrage of questions being yelled at me.
The shuttle service to the rental location was fast, clean and easy. My car check in was efficient and I was in my car within a few minutes.
Note: when you're renting a car in Mexico, you do need to purchase the additional insurance that is offered. Despite most auto insurance in the USA covering rental cars in different locations, this does not apply to Mexico. And if you have an accident of some sort, the liability laws are INTENSE and you are responsible for everything, and in many cases, even if an accident isn't your fault.
El Rey Ruins, Cancun
Before arriving in Mexico I had asked several friends about my itinerary and they'd given ample feedback. One note was to skip El Rey Archaeological Zone in Cancun. Nope. Don't skip it. It's directly in the hotel zone of Cancun, so you might think it's going to be lame or crowded or touristy, but it's actually wonderful.
I was THE ONLY ONE THERE. It was me and a hundred iguanas. While the overall structures weren't towering and impressive, the overall site was beautiful and ideal for a calming, relaxing stroll and beautiful photography.
Puerto Morelos
This colorful little town is at the start of the Ruta de Cenotes. While it isn't a resort town, per se, it's very much centered around tourism and the beach. There is some beautiful street art, some colorful buildings, restaurants and a small malecon.
Note: near the beach the prices of EVERYTHING are crazy. It's not that I'm an American that wants to haggle or something, but I was looking for an inexpensive beach towel and the only options were very cheap small towels for $27 or $36 USD. And there was no compromise.
Cenotes Siete Bocas
After driving inland quite a ways and then down a realllly bad dirt road, I arrived at Cenotes Siete Bocas. It's a collection of seven small cenotes all connected by tunnels with the aquafer flowing through.
I enjoyed checking out the caves and their formations, swimming around in the cool water and even taking a few 20 foot jumps into the largest of the cenotes.
Note: if you're traveling through Quintana Roo visiting cenotes, know that each one has a cost ranging from $5 USD to $25 USD. Some have swings and ziplines, some are just perfect pools in the jungle.
Cenote Azul
Outside of Playa del Carmen is another very different cenote: Cenote Azul. This one is an open centote with loads of smaller ones all around. With short cliffs to jump from and small, shaded areas away from everybody and lots of swimming room, Cenote Azul seemed to be the place for locals.
Tip: there are lots of people around and everybody is pretty chill, but always be thoughtful about leaving your bags and valuables out while you're swimming.
Akumal and Sea Turtles
This is one of my favorite places in Mexico. I've been here before (check out my article) and it was incredible. Today, it was just as incredible as before. I saw seven sea turtles swimming, eating seagrass on the floor, and resting. One even swam to investigate me!
Note: there are times that Turtle Cove at Akumal is closed due to too many tourists or a lot of turtles laying in the area. Getting to swim with the turtles isn't a guarantee.
Cenote Yal Ku
I went here against the recommendation of several people. I'm glad I didn't listen. It was totally different from Siete Bocas or Dos Ojos (outside Akumal). An open cenote that joins with the lagoon and eventually the bay at Akumal, it's FULL of tropical fish, including the largest parrot fish I've ever seen. Snorkeling this cenote is fascinating because of the wildlife, the rock formations, and the mangroves protruding into the water. Such a cool experience!
Parc Nacionale Tulum
The ruins of Tulum are very different from what I saw at El Rey in Cancun. Tulum is an enormous site with many well preserved and strong standing structures. They're exceptionally beautiful, particularly set against the Caribbean Sea.
In addition to the ruins of Tulum, there is also beach access. The beach is a long stretch and it's got severl sandy restaurants along it. It's quite the walk from the ruins though, so be prepared when you first start your Tulum experience.
Tip: you can rent bikes at the entrance to the Tulum National Park site. It's well worth it due to the distance from the parking area to the actual ruins and then the beach.
Staying at Club Yebo Hotel – Playa del Carmen
After some jam-packed exploring I finally was able to settle into my hotel in Playa del Carmen. The Club Yebo Hotel was super cool. Nestled into one of the more quiet streets just off the main strip in Playa del Carmen, it was exactly what I'd hoped. The courtyard was kind of a jungle with huge trees and elevated walkways, the pool area was beautiful and calm, and my room was simple with plenty of space and amenities.
At night, despite being right between the beach and the party scene of Playa de Carmen, it was so quiet. In the morning, I was able to grab coffee and stuff just outside the hotel at the little cafe. It was kind of perfect.
Tip: follow Club Yebo Hotel on Instagram to get ideas for visiting Playa del Carmen, to get inspiration to plan a trip, or to watch for deals that they share through social media.
Playa del Carmen at night
Who knew Playa del Carmen was such a crazy place? Until now I'd only visited Playa in the daytime and now I know where Mexico goes to party. There were more people out in Playa after dark than I've seen anywhere else. Shoulder to shoulder people in some spots. There were countless restaurants with outdoor seating, lots of bars, there were break dancers, street performers and so much more. The spectacle of Playa del Carmen at night is something to experience. And street tacos too.
Ruins of Coba
After visiting El Rey in Cancun and then the National Park in Tulum, I was really excited to visit the Coba Ruins. They were amazing. Much different than the other two sights I had visited this week, Coba had several pyramids a very different layout.
Without giving away the farm, let's just say that the site was incredible and I would recommend it to anybody visiting Cancun, Playa del Carmen or Tulum. And I can't say for myself, but several friends have recommended Coba over Chichen Itza, and I think I know why.
Tip: get to Coba as early in the day as possible. If you're climbing the great pyramid, it gets hot and if you're out of shape, you'll be extra glad to climb it in cooler temperatures.
Note: if you're heading to Coba before I get the full article published, take heed – rent a bike at the start of the park or jump on a bicitaxi. From the entrance back to the great pyramid is much much farther than you expect.
Valladolid: colorful Mexico
This is my new favorite city in Mexico. Valladolid was so colorful and fun of amazing sights! I hate to play to the millennial vibe, but it's seriously the most Instagramable place I've ever visited. Between the towering church in el centro to the colorful buildings to the plethora of old VW beetles, it's a photographer's dream.
Tip: the city is very walkable and safe, but you need to be sure you're parking legally, as Valladolid doesn't have clearly marked parking areas/signs. I had to chat with the police upon returning to my car, and they were awesome and hilarious about my parking job, but it could've gone a different path.
Cenote Zaci
Right smack in the middle of Valladolid is the largest ceonte that I've ever seen. Cenote Zaci is just three blocks or so from the center of town and it's a world away. Like something right out of Journey to the Center of the Earth it's a sight to behold.
After exploring the circumfence of the cenote and checking out the stalactites and miniature caves, I picked my jumping spot and started to really enjoy Cenote Zaci. After a few jumps in, chatting with some French tourists and shooting some cool video it was time for my exit. So cool though.
Time for Isla Holbox
I returned my car to Alamo Rent a Car at the Cancun airport and headed to the international arrivals terminal. Here I met up with my friend that was coming to the yoga retreat with me. We found our driver with Transfer Holbox and buckled up. Time for the mini road trip to the northen tip of the Yucatan!
After a couple of hours and a few Coronas we made it to Chiquila, a tiny town on the water where we would be catching the ferry to Isla Holbox. It was a beautiful Caribbean night so we sat on the upper deck and enjoyed the ride while a local busted out his amp and microphone and sang for tips. It was all too fun to be true, but it was.
Villa Flamingos
We were picked up from the dock on Isla Holbox by a golf cart taxi (there aren't cars on Holbox) who took us to Hotel Villa Flamingos. The property is set amoung palm trees and iguana dens. After a quick check in I got settled in my room. So cool.
My room was on the second floor of one of the villas with a nice, big balcony equipped with deck chairs and a hammock. A sitting area, a desk for work and a huge shower rounded out the room. The lighting was exceptionally cool with the ceiling and bed being lit from below.
Hotel Villa Flamingos is really cool for relaxing. I mean, it's on the beach, right? It has three pools too and loads of hammocks and swinging lounge beds in the shade. Oh, and hammocks in the water. And how could I forget that one morning I was watching the sea and a flock of flamingos flew by?!
The yoga retreat I was attending was also here at the Villa Flamingos. We had the large upstairs space of the main villa building looking out across the palms and the Caribbean. I couldn't have been a better setting for the week to follow.
Yoga Retreat with Yoga Multimedia
I really didn't know what to expect upon arriving at Villa Flamingos. I was there to spend a week with a bunch of complete strangers being bendy and vulnerable. Before we dug into the meat and purpose of the retreat, we had a group dinner where we got to meet each other and get a feel for what was ahead.
Note: participating in a yoga retreat is strangely fun. From the get-go you make new friends and since it's typically like-minded individuals participating, so myself and all of the participants were at ease right away.
Opening of Yoga sessions with Victor Varana
I'd never met our first instructor, Victor Varana, prior to our arrival dinner. What a cool man. In addition to the yoga he was to lead us through, he opened the retreat with a ceremony talking about both yoga and Mayan culture, clearly correlating the two and setting the tone for a week of pushing our limits and being more comfortable and caring for our own health. It was fascinating to hear about the different types of energy in the human body and how they relate to the world around us.
And then there was yoga. Ah, yoga: my favorite. Our first yoga session really set the tone for the whole Yucatan yoga retreat. Beginning us with a combination of breathing exercises, powerful poses and calming moments, it was masterfully and very warmly executed. I could tell that Victor's classes were going to be really enriching.
Introduction to Ayurvedic practices with Joanne Matson
I had heard nothing but wonderful things about Joanne Matson before arriving at the yoga retreat and I immediately knew that was everything that was talked up to me and more. Joanne's first session with us was actually an introduction to Ayerveda with is an accient science regarding balance in the body for maximum health. It was intriguing.
I wasn't particularly sure how Ayurveda fit into the yoga retreat since I didn't have much prior knowledge, but she clearly explained the connection of balancing our bodies and minds through a marriage of yoga, herbs, and understanding and listening to what our bodies tell us in the smallest ways.
Note: in no way did I become an expert from this one talk, but listening to Joanne share life application examples of balancing internal fire with calming foods and actions, I could see rather quickly how I live out of balance and what I could easily change almost immediately.
Note to self: study up more on the physical side of Ayurveda so I can work on being more comfortable happy in my daily life. I'm well aware that between my high energy and internal issues something is up and I feel confident that I can get into the proper swing of things.
Yoga sessions with Joanne Matson
If you're not into yoga or if you don't do any sort of self reflection this might sound strange, but just go with it.
The way Joanne led our yoga sessions was really intuitive. I don't know if everybody else was in the same place of awareness as me, but from the poses, exercises and stretches to the guided thought processes I felt like each class was directed at me. What does that mean?
It means that the series of movement we'd do would fall right into what my body needed at that moment. It means that when I needed to be pushed a little farther physically, Joanne knew when to have us hold a pose or revisit another one. It was the way Joanne would talk about releasing stresses and stories that our bodies or minds were holding onto and then feeling those tensions or sensations physically leave my joints.
I know that may sound very strange to a non-yoga person, but it really was incredible. The right balance of encouragement and reality check made me feel confident and safe as I moved through each class. I kind of wish I could continue to practice yoga with Joanne… everyday.
Yoga sessions with Victor Varana
Firstly, you have to know that this man has such a dynamic personality, and I think that's what really made his sessions have such an impact on me. He is calm and a bit mystical, and yet he's hilarious and energetic all at the same time.
Power yoga with Victor was really fun and a challenge. It reminded me of the classes I first was introduced to a long time ago when I first started practicing yoga. Victor is great a leading through a series of poses that pushes you physically but then goes seamlessly into recovery so you can keep moving.
The most interesting yoga session of Victor's, I thought, was centered around breathing. We learned about how the body stores energy and releases toxins and what stimulates the different lymphatic and endocrine systems, all through breathing, compression and stretching. And then we practiced different breathes, some with sounds (long held vowel sounds) and some with controlled force. It was very challenging and yet energizing all at once.
And then there was the funnest yoga class I've ever done. Victor paired Tai Chi, yoga and a bit of martial arts to create a very active session. Starting with the Tai Chi our focus was immediately challenged as we moved through fluid poses… and it was difficult, for sure. But then we also started mimicking animals and moving our limbs in controlled kicks and punches. We were all laughing and sweating and having a yogatastic time. Totally unexpected.
My big take-aways from the yoga retreat
As a standard in life, I've not subscribed to anything supernatural or cosmic and whatnot, and I still don't, but I do very much believe in or feel the energy that gives the world life. Practicing yoga consistently for several days and learning about where the body stores toxins and how energy moves or can be moved through the body, I am very excited to change the way I approach several aspects of my life.
I understand that my personality and moods are tied to my body being out of balance or totally in the zone. I get that treating my body well and listening to it is a life-changing, or to quote the amazing Joanne Matson, it's a profound way of being. Our bodies know what they need and taking the time to learn how to read your bodies signals and respond is a simple and highly beneficial way to improve quality of life.
And the yoga retreat reinforced how much I love practicing yoga and love the people of the yoga community.
---
Exploring Isla Holbox
So this incredible yoga retreat with Yoga Multimedia has been on Isla Holbox. This cool little island is off the northern tip of the Yucatan and it's still fairly chill for being a Caribbean destination. It's a strange place, I'll be honest. And FYI, it's said "Hole-bosh."
You arrive by boat and that in itself is kind of an adventure. On a windy, rough day, you need to sit inside or you'll be soaked. We got soaked upon our departure. Once you're on the island, the only transportation is via golf cart taxis or bikes that you rent. Actually you could also rent your own golf cart if you really wanted. There isn't pavement except for some areas of the town with paved sidewalks.
The town of Holbox is very similar to other Mexican towns in that it's pretty colorful and is 60% restaurants. What makes it different (in addition to the golf carts) is that it's full of street art and hammocks. Yeah, both in the water and in the town you can use or rent hammocks to chill out randomly.
I ate a several different restaurants in town, but my favorite was El Champlin. This small restaurant in the heart of downtown, just off the main square, has no menu. Each day the chef sees what's fresh and available and makes four dishes. When we went, the options were stewed shrimps, bone-in tenderloin, lobster and cream sauce, and grouper (fish) with poblano peppers. I had the grouper and it was remarkable. Delicious with a really subtle heat.
Overall, the food of Isla Holbox really seemed to be Mexican inspired but big-city trendy. It was not what I was expecting.
Running on Isla Holbox
Being a really long island, Holbox has a ton of beaches and a good portion of the main beach has a road that runs alongside. This provided two really great and totally different running routes.
Running route #1: Hotel Villa Flamingos through town, past the airport to the western nature preserve and back. This route is shaped like a lasso and can be about 3 miles, depending on when you choose to turn around. Highlights along the way include the town square, lots of street art and a look into what's beyond the main tourist area. Know that a portion of this run took me though one of the poorer parts of the island, which gave me some perspective into the income disparity in such a small place as Isla Holbox.
Running route #2: Hotel Villa Flamingos to the east, through the northcentral nature preserve. There are running/biking paths as well as firm beach paths you can run on. I really enjoyed this because I did it at sunrise and I got to watch the colorful sun come up through the mangroves. There is a creek to cross on this route, but as long as you're doing the route near the mouth of the creek there's a path for crossing. Highlights on this route include mangroves, beach running, countless beautiful birds and… wait for it… horseshoe crabs! Such a treat!
Holbox Three Islands Tour
The only organized tour I did while on Isla Holbox was with the rest of the crew from our yoga retreat. A boat picked us up just off shore from our hotel and took us out from the island. We almost immediately were greeted by a family of bottlenosed dolphins that were in a playful mood. After observing them for a while (including a baby dolphin!) we moved on around Isla Holbox.
Our next stop was at Cenote Yum Balam. A part of the larger Yum Balam nature preserve, this cenote is in the middle of a mangrove forest just onto the edge of the Yucatan Peninsula, so it is actually on the mainland, not an island. There was a forest lookout to climb, a cenote to jump into, and just a bunch of fun with the yoga crew. We were like kids splashing and jumping and loving it all.
From the cenote we headed to the bird refuge at Yum Balam. Here, we couldn't go ashore, but there was a dock and two observation towers in the water for our use. Incredible. Great egrets, tri-colored egrets, pelicans, fluffy white egrets, vultures, osprey… It was amazing how active they all were and it was just really beautiful.
Our last stop was at the far western end of Isla Holbox. What were we doing? Looking for flamingos! We saw only four, but they were pretty cool. We took time to get into the water and walk around the tiny piece of land and sandbar, but we couldn't get very close to the flamingos.
Note for next trip: we'll for sure be visiting Los Colorados and Rio Lagartos where there are typically hundreds, if not thousands, of flamingos.
This whole experience, from the rather life-changing yoga retreat with Joanne Matson and Victor Varana, to the time exploring the Yucatan on my own, it was unforgettable. I'm excited to return with the family and explore further, and now I have a much better understanding of what to plan for our family trip, including new destinations I didn't even know about.
If you have any questions about the yoga retreat, Isla Holbox, road tripping in Mexico or anything else, please let me know. Chris and I have lots of experience exploring Mexico together and separately, so we're happy to help you out in any way.
And if you have some specific questions about my own yoga retreat experience, I'm happy to share more details. I'll be sharing much more soon, but if you are thinking about booking a yoga retreat, perhaps with either Joanne or Victor, I'm glad to give some thoughts and explain the overall experience.