You know how much we love to go for a drive, whether it's near home or when we've flown to a new destination. Well, we've got an amazing partnership going and we are so excited to share that we're now a part of Alamo Rent A Car's Chief Travel Guide team. We're going to be creating some really cool content for Alamo's Scenic Route Hub and sharing it with the world.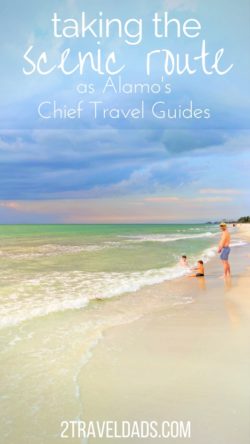 Of all of the projects we've gotten to be a part of lately, this one really hit home with us. Spending time as a family on the road has given us some of our favorite memories. The Scenic Route is all about the destination and enjoying it beyond just what you find in the city. Keep your eyes peeled because we're going to be sharing more destination-specific and itinerary ideas in the next 10 months or so that are going to make you want to take off and explore the Scenic Route.
What is the Scenic Route?
A Scenic Route isn't just a road trip, it's finding new and beautiful places when you arrive someplace you haven't been before. It's landing somewhere, getting in a car and driving to fresh destinations and experiences. We get to do this with the kids all of the time and have seen firsthand how it's impacted our family. Going off the beaten city paths and interstates, we've found some awesome getaways that have shown us another side of the country.
Taking the Scenic Route provides new learning opportunities for us all. And it helps us bond as a family. There's nothing like getting a little bit lost and finding a random beach or hiking trail to bring you closer together and to get some amazing family pictures.
What's ahead on the Scenic Route
Without giving away the farm, know that our Scenic Routes in the next year are going to be new and different for our family. We might be seeking out some new National Parks, maybe flying into a few new cities and escaping to the suburbs or countryside… Maybe we'll even do a Dads trip without the kids (accepting ideas now!)
Also, people ask us for tips on traveling with kids but we don't share a lot of our secrets. Well, we might just start because it's true that traveling with kids can seem daunting, but it's really wonderful. We're going to help take the mystery out of family travel so that you can feel empowered to explore with your crew.
If you have a favorite Scenic Route that you think we should explore, please let us know! We know a lot about exploring the USA via the highways, but by no means do we know all the hidden, beautiful spots. We can't wait to explore!
Recent Scenic Routes we've ventured down
Some of our favorite scenic routes we've done lately have been the Columbia River Gorge, Glacier Country Montana, all around the Florida coast, and our new favorite, the backside of the Island of Oahu. Can you really go wrong with exploring nature and finding great Mom-and-Pop spots to try? No; it's awesome.
Check out these other routes we've done with the kids over the years and see if any of them need to be revisited or modified a bit. We're always up for a challenge and love going back to our favorite destinations.
Exploring the Mountain National Parks
Northern California's Iconic sights
California Coast from Tip to Tip
Alaska from Homer to Denali (we've never actually written about it!)
All around the Phoenix area
We're looking forward to sharing the Scenic Route with everyone so stay tuned. Now, go drive happy!