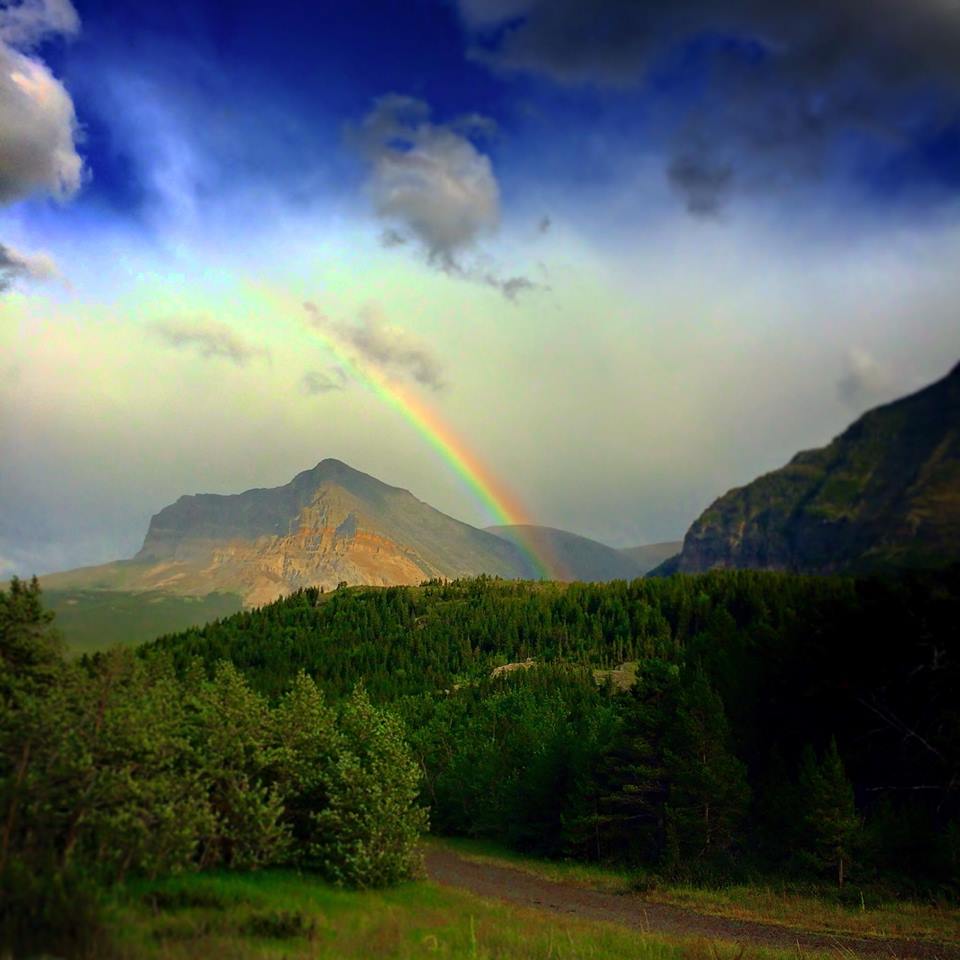 Behind the Picture: the Rainbow in Glacier National Park
The story:  It's not everyday you get to see a rainbow in Glacier National Park.  After securing a campsite we had one beautiful day to enjoy the area.  Midway through da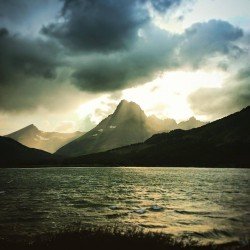 y two though, the most ridiculous storm hit.  We rushed the kids into the play area we'd made under a canopy and then the four of us sat there watching the rain come down harder than meteors.  When it finally cleared, we packed up the kids and headed to the Many Glacier Hotel to relax, warm up and have a nice dinner.
Once at the Ptarmigan Dining Room at the hotel, the storm started again and we watched it sweep through the valley.  Thank goodness for the storm to watch, because the service was poor and the food at the restaurant wasn't as good as what we had been making in our campsite.  We left the dining room and strolled through the hotel lobby, admiring the amazing lodge architecture and impressive fireplace structure.
We said hello to the huge taxidermy bighorn sheep and then we took a few more minutes during the storm to work on a puzzle in the sitting hall by the Interlaken Lounge.  As bedtime approached, we wrapped up and headed to the van.  The wind was still outrageous and ready to blow us back to Wyoming, but we made it.
 As we headed away from the hotel the clouds started to vanish, the wind calmed and we pulled over. The sun broke through and
created a rainbow
for just a split second.  We watched as it faded out and then headed back to camp.  That night, the weather dissipated and we had sun for the rest of our visit.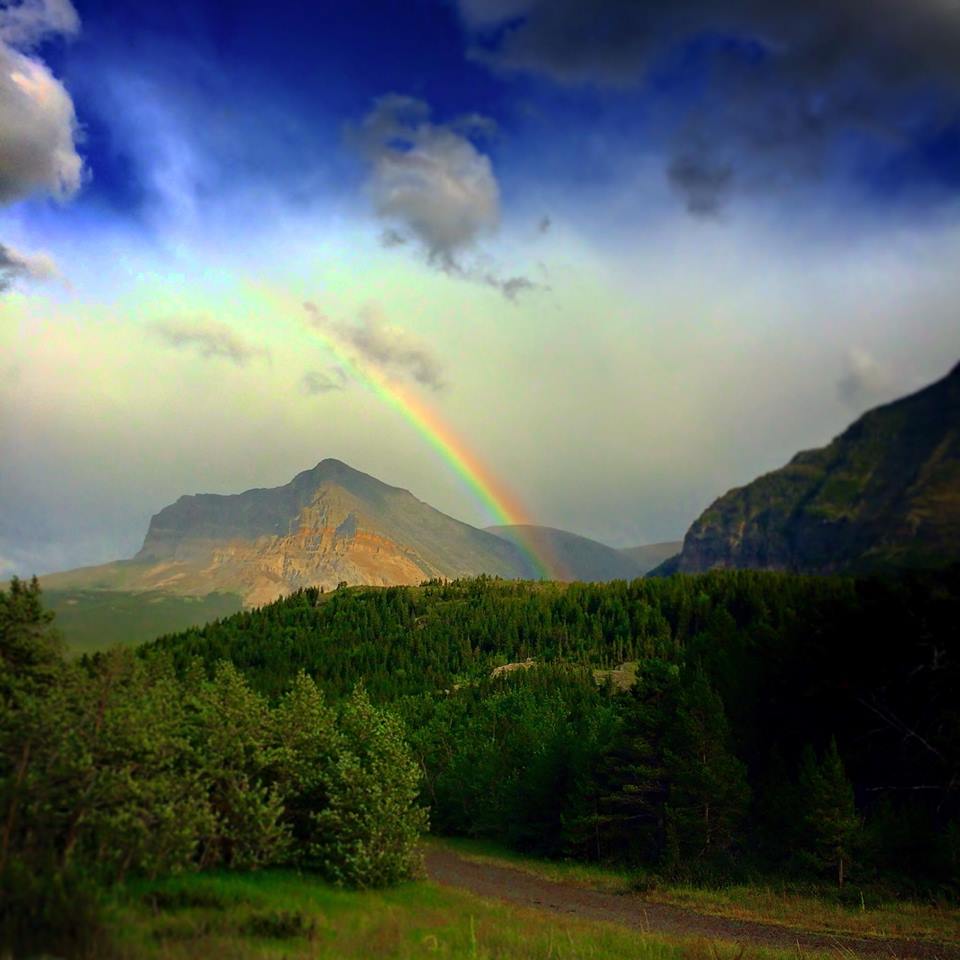 Why do people love this image:  mountainscapes have a special place in the hearts of people who have spent time at high altitudes.  Glacier National Park is a one of a kind place with sweeping valleys and jagged mountains, unlike any other we've seen.  And who doesn't love rainbows.
Fun fact:  the Dept of the Interior used our photo on the @GlacierNPS Instagram feed.  To date, more than 6,900 IGers have 'liked" our photo through our own account and the Glacier IG feed.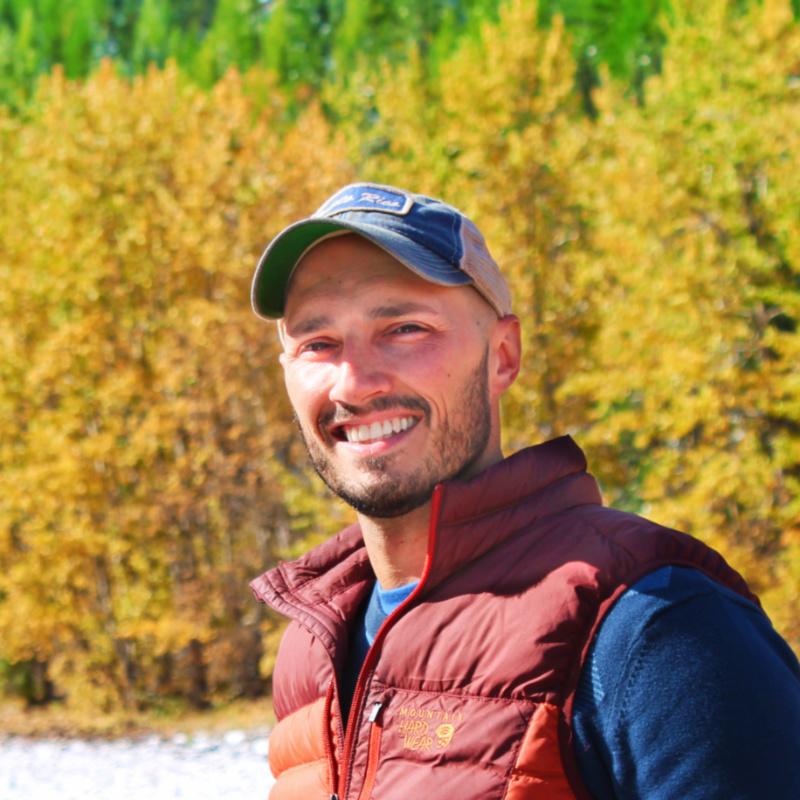 Rob Taylor is the founder of 2TravelDads, the original LGBT Family Travel blog. Focusing on ecotourism and education, 2TravelDads inspires LGBT families (and traditional families also) to go beyond their usual getaways and use travel to learn about and be part of a bigger world. "Traveling the globe and giving the kids a broad worldview."