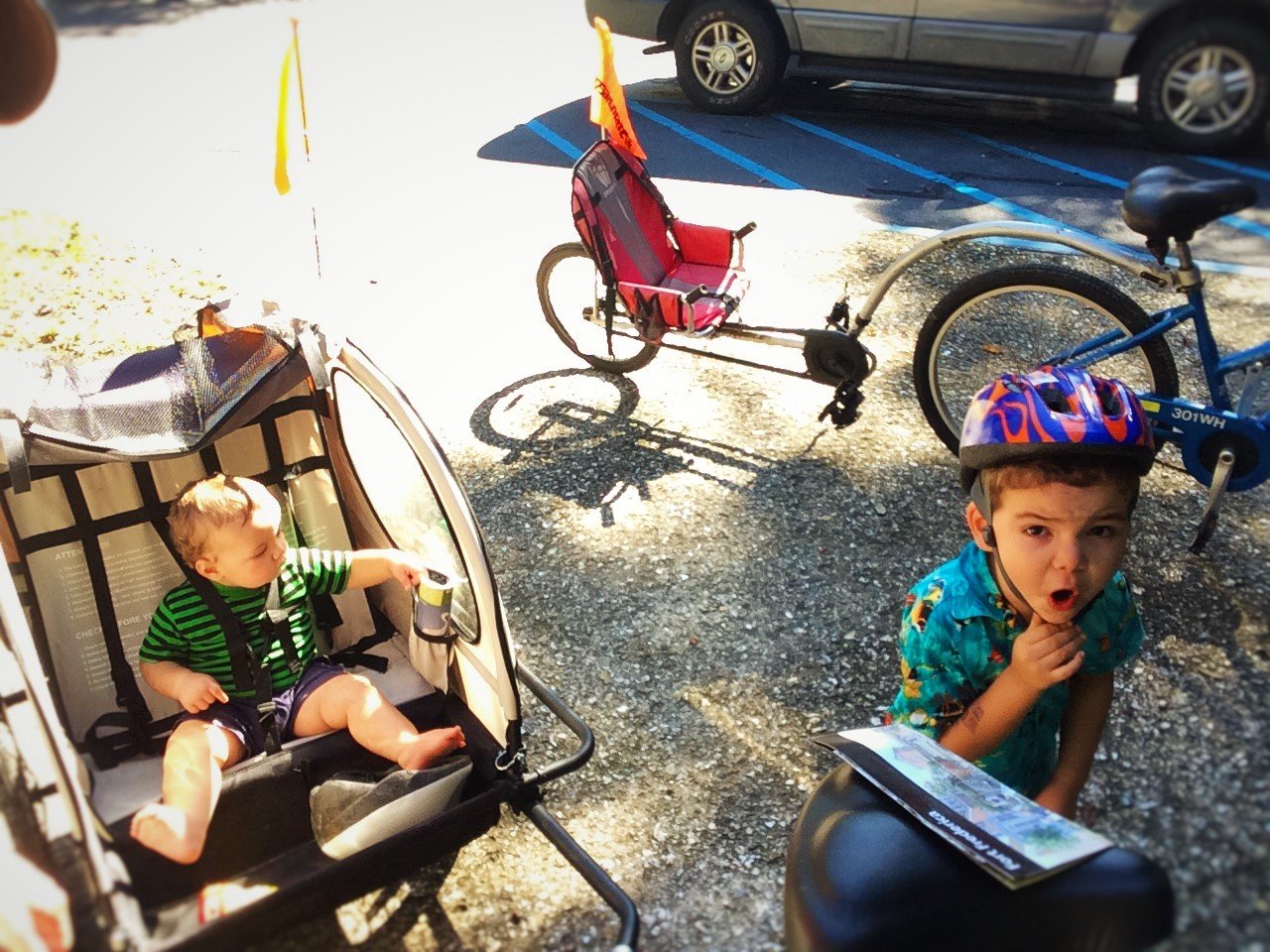 By now you know that we're in love with St Simons Island, Georgia.  It's nautical, historical, beachy, covered in Spanish moss.  Perfect.  So, what's the best way to see and get a good feel of the island?  Biking St Simons Island from end to end is just awesome.  Family travel can sometimes limit your activity choices, but then it also opens you up to new things.  Without knowing too much about St Simons Island when we arrived, we weren't sure how best to see the Island or what activities there were besides the beach.  When the concierge at the King and Prince Resort said that she'd set up biking for us, we were like "Okay, that's fantastic.  Why not?"  So, it turns out that biking St Simons Island was brilliant and just what we needed to break up our vacation a bit.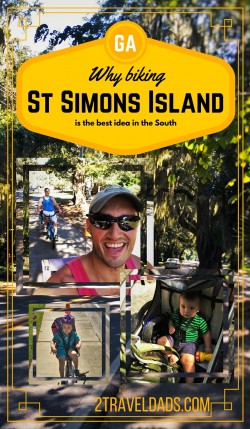 Bikes and kid-trailers were provided to us through Ocean Motion Surf Co on St Simons Island.  They were great at getting us fitted with helmets (required on bikers under 16 years old) and they made sure that our trailers were comfortable enough for the kids.  For a first time trailer ride, we were good to go!  But why do this instead of just chillin' out on the beach?
Biking St Simons Island is all about fresh air
Unless you live mostly outside, you may not realize the air and how it affects you daily.  If you spend your days inside an office building or only ever exercise at the gym, you might not even realize how good fresh air makes you feel.  The moment you start pedaling a bike and heading down one of the country roads on St Simons Island you feel different.  The sea air is exhilarating, even if it's muggy.  Also, wind in your face is so wonderfully relaxing that you'll feel great just from the breeze.
Tip:  wear waterproof sunblock while you're riding.  Even though you're nice and cool from the wind, the sun will getcha!  Kids especially need it, even if they're until a biking shade of some sort.

Tip 2:  don't forget water!  Yes, there are places to stop and get something to drink along the way to wherever you're going, but bring water too.  Seriously.
Biking around the island is great exercise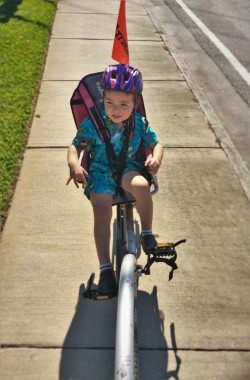 Some people just aren't active folks.  Sure, life is busy.  Sure, I don't LOVE to bundle the kids up and put on raincoats just to get a few minutes of outdoor fun.  You know what's cool about being on vacation?  You're doing things differently and able to venture out and be active in different ways than you're used to.  Biking is a wonderful form of exercise that gets your heart pumping and that you might not do all of the time at home.  Take advantage of the variance and get active as part of vacation.  
And if you're not in the best shape, that's okay.  Biking St Simons Island is great for any skill or fitness level due to its flatness.  There are only a few moments where you'll have to show a little skill, and that's just for swerving pathways.  It's super chill.  The thing that elevates the exercise aspect is that the bikes you rent (on St Simons Island or any beach community) are typically 1 gear beach cruisers.  That means that you'll be pumping your legs consistently just to move on flat ground.  It's a surprising workout.
To See:  depending on your route, you might not get to explore the edges of the marsh.  Ask for directions to see the marsh and watch the egrets and herons.  It's a relaxing stop you can take and if you're not a coastal dweller and it'll be a sight you'll appreciate for its unusual wildlife and sounds.

Tip:  push yourself to bike a little further than you planned, but know your limits and don't get too lost
Destinations you'll find while biking St Simons Island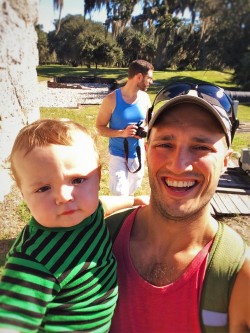 Like we said, biking St Simons Island was a perfect way to break up vacation.  What we mean is that sometimes you get so excited and on a rampage of sites that you wear everybody out.  Not so here.  Starting our day at Ocean Motion, we were able to ride out to Fort Frederica on actual bike paths and a few sidewalks.  There were so many beautiful old houses and so much Spanish moss that it was difficult at times to keep our eyes on the road.  
There was a bike rack at the Fort and Ocean Motion provided us with bike locks, so there was no fear in losing our transportation.  And um, it's St Simons Island… nobody's stealing your bike.
Tip:  don't forget your National Parks Passports!  You can get them stamped at Fort Frederica National Monument.  They also have a Junior Ranger program that kids can participate in for a nifty badge.
For the ride back, we went a different way, meandering through neighborhoods and avoiding the thoroughfares.  This was wonderful for two reasons:  
1.)  we were able to see the non-tourist side of St Simons Island and  

2.) we rode in the shade!  
Y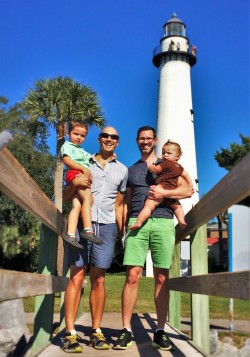 eah, it's hot on the island.  True, there's a fantastic ocean breeze…at the beach, but not within the heart of the island.  Oh, and remember that tip above about water, because once you're off the beaten path, it's not so easy to find.  If you're renting bikes be sure to ask for a basket if you didn't bring a backpack, as you can have all the water you'll need and it'll be easily accessible.
Another easy ride from our home base at the King and Prince Resort was the village area, which is where the St Simons Island Lighthouse is.  Again, there are bike racks for security, but everybody's in island-mode, so I don't think there's much to worry about.  If you've made it to the village, you can check out the pier, grab a bite to eat and go strolling down the boardwalk.  And like we've said in our article about family travel to St Simons Island, there is a fantastic playground and waterpark to enjoy right by the lighthouse.  Awesome fun with kids!
Safety for biking St Simons Island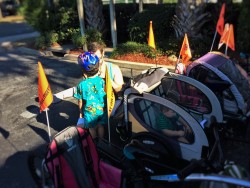 You always need to check the local laws when you're riding bikes in a new area, but biking St Simons is pretty chill with it.  Kids MUST wear helmets if they're on bikes.  Adults don't have to wear them, but it's recommended.  Also, it's worth confirming traffic laws regarding biking.  Some communities require bikes to be on the road vs the sidewalks and some suggest using pre-designated biking routes to ensure the safest passage.  Ask if you're unsure or if it seems like a place that has taken the time to construct visitor friendly biking procedures.
Tip:  helmets make kids sweat.  Keep them well hydrated so they'll be healthier and happier for the rest of your trip.
So between the fresh air, exercise and cool places to check out, do you see why we think biking St Simons Island is the best idea in the Golden Isles?  Maybe you just need to go there and check it out.  We're thankful Ocean Motion hooked us up with great bikes and a clear route for our travels.  It was a perfect activity for family travel and we WILL do it when we're there next!
Do you have a favorite town, resort or area that's great for biking with kids?  Share it and maybe we can add it to our travels.