Now that we're starting to explore Asia more, we've decided to make a list of the countries or sights to see all around Asia.  Chris travels to China for work from time to time and he always gets to add a little stop-over or weekend trip to a neighboring country, but as a family we haven't all been.  Time to change that.  We're going to start (hopefully) with a trip to Indonesia!  There are so many Asian destinations to explore, but yeah, Indonesia.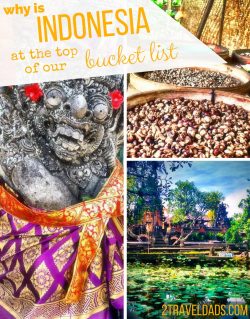 Our method for determining where to do family travel in Asia is going on a couple of things: 1.) where has one of us been that we want to take the other three  and 2.)  where can we be guaranteed cultural sites, activities and hotel deals that aren't going to turn an affordable trip into the impossible.
Our past travels in Asia
So, I've been all over the Shaanxi province of China, from the cities of Xi'an and Yan'an to the rural areas and mountains.  Wow.  Every place was so amazing and not at all what I'd have expected.  Chris is all about Shanghai and can deal with the crowds and towers like none other.  The first time he came back he explained it as "people mountain, people sea…"  Seas and mountains of people… and he loved it.
He's also had some lengthy stop-overs in Japan (he loved the food) and South Korea (again with the food).  And then there was that time he went to Thailand without us…  Anyways, we've had our own adventures to different Asian destinations and now it's high time we all go together.
Tip:  it's okay to return to a destination with kids if you've already been there.  True, there is a lot of world to explore, but it's okay to share your favorite memories and create new ones.
What's put Indonesia at the top of our Asian destination list
While I'm excited to take the kids back to Shaanxi province and to show them the fascinating world of Buddhism and art, we more often elect for primarily outdoor experiences.  Indonesia is perfect for this.  This fall we (just the adults) are planning on getting our SCUBA certifications, so we'll be needing to do some diving in Indonesia ASAP.  
Tip:  if you're into diving or want to learn a bit about SE Asia and the likes, check out Sarah at Coffee With a Slice of Life.  She seems to have loved Indonesia for snorkeling.
Also, both being huge coffee fans and having kids that are into food and farming, we'll need to see where some of our favorite coffees are grown.  And one of our friends was just on the island of Lombok, Indonesia and she totally sold us on it.  PS:  Bali – we need to see what all the hype is for.
Note:  we're always seeing amazing accommodations from people traveling to Bali.  We checked out Hotels Combined and found their suggestion for the 7 Best Value Hotels to Relax in Bali and it's really tempting us.
Since Indonesia is at the top of our bucket list, we've started our research for when the day comes.  Finding reputable hotels is where we're starting.  Being formerly in the hotel industry I have my thoughts about what brands I trust without fail.  For a home base and since I'm sure we'll want to experience metropolitan Indonesia as well, we're looking at the Intercontinental Jakarta as well as a few others that are international brands.  We look for hotels that are within our price range, are family appropriate and have a reputation that they'll strive to keep.  Hence why we'll probably start with the Intercontinental Jakarta; so that we start our Indonesian adventure on a good foot.  
As we branch out beyond Jakarta we'll most likely opt for a mix of resorts and smaller accommodations so we can see both sides our what it's like to tour Indonesia.  Maybe we could even stay on a coffee farm!?!?!?  A lot more research will be going into this, but just to share where our minds are going…
Our current Asian bucket list
Even though Asia is so vast, our list of destinations is mostly in the southern parts and islands.  Life is long though and if we cross off everything (or if plans change) we'll be flexible, cuz that's how we roll anyways.  Now, for our list:
Indonesia – Jakarta, diving, coffee, Bali and so much more.  We're excited for the day we get to visit, but are also cautious about being LGBT travelers in a strongly Muslim country.
Sri Lanka – experiencing a different side of Asia, Sigiriya and other cultural/natural wonders.  Few places for us seem quite as mysterious and still off-the-beaten-path.
Vietnam – beaches, jungles, and FOOD.  Our buddies at 2FoodTrippers, Daryl and Mindi, have gotten us completely sold on Vietnam.
China – Ning'Xia and the Gobi desert.  This was initially on the schedule from the last China trip but it got pulled at the last moment.
China – Chengdu and the pandas.  Do we even need to explain this?
Taiwan – we've heard from friends that it's beautiful and amazing, but we need to research more.  And we must experience the food and really critically analyze where its influences are coming from and eat as much of it as possible.
Cambodia – we have some friends who came to America from Cambodia and visiting would be a great way to understand them and their past.
India – State of Rajastan to visit Udaipur and Jaipur (and more of India, of course)
India – State of Kerala.  We have to experience the backwaters that we so often see other travelers gushing about.  Beaches, culture, and silent house-boat filled rivers.  It's too amazing to be true and the Kerala tour packages we've researched sound perfect.
China – everything that we haven't yet seen in all of colorful, surprising China.  Can you tell that we have loved each of our trips to China and can't wait to return and show the kids this amazing land?  
Until we're booked into our Jakarta/Bali/Lombok, Indonesia trip, we do have other family travel on the calendar, but gosh it's difficult to stay focused on the destination in front of you when you already have grand plans in the works for the future.  We'll keep on enjoying our travels in the meantime and hopefully get our SCUBA certifications without a problem so soon we'll be able to have an amazing adventure exploring Indonesia as a family!
Update:  we still don't have our SCUBA certs.  Anybody want to inspire us to start those before we head off to warmer waters??