Stanley products: #Stanleyness & useful dad-gear for dadding
Probably the best thing about being a blogger is getting to tell stories about what we do every day instead of just keeping it to ourselves. We love talking to people!  Having a blog to share our ideas, tips, and just fun times is great. One of the things that we get to share about is when there are cool products that we use and today we are going to tell you all about what sort of things are fun for days at the beach or on the road… dad-gear basically: Stanley products.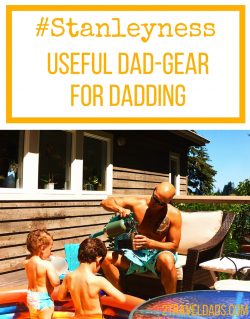 Dad-gear can be all kinds of things, varying from hiking boots to an awesome diaper bag.  We were asked to share about some different Stanley products that travel with us and thought it was indeed worthwhile to fill in the general public about what we love.  You might call them #Stanleyness supplies.  Okay, we didn't coin that phrase, but it fits with us.
We're going to share four different items of Stanley products that we use and love and that last a long time.  It's funny that we're writing about this, especially as thinking back, my grampa always had a hot bottle that matched our current gear.  I wonder if he still has it. Probably.  Yes, I know he does actually.
The Stanley Vacuum Mug
Our first piece of dad-gear to share is the Stanley Vacuum Mug.  This has been the go-to coffee tumble for a while for us and we have loads to say about it, or as much as anybody can say about a coffee cup.  We'd say that, for us, it's the most useful of all our Stanley products.  It's pretty awesome for a few reasons: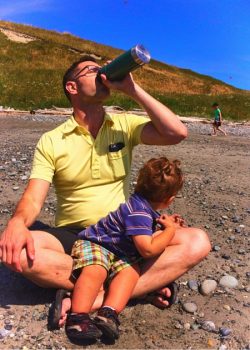 It keeps coffee (or whatever else) hot FOREVER.  Forever.  One must demonstrate great #Stanleyness to sip from the mug without burning your tongue.

It doesn't spill.  It's got a really cool lid with a push-button that keeps it well sealed.  We've never had a coffee-on-the-floor-of-the-car issue with it, including after it's fallen out of the side of a bag and rolled around the floor of the minivan.

It fits in cup holders.  I know that may seem silly to call out, but it's not. If you drive a minivan like us, you know that the cup holders are all different sizes, so it's nice that the Stanley Vacuum Mug fits in the center holder or the door.
Oh, and the other thing that's nice for us is that the push-button lid keeps sand out of your mug. Remember, we live by the beach and, well, who hasn't taken a sandy drink at the beach.  Never a day goes by that a child doesn't kick sand in my face or at my drink.
Tip:  if you've got a beverage you don't want kids to get to, hot or cold, this is a good mug for it. The push-button lid is just tough enough that neither of our kids can squeeze it to open and spill something hot on themselves.  It's actually a cool safety feature and a valuable piece of dad-gear.
Stanley's Vacuum Growler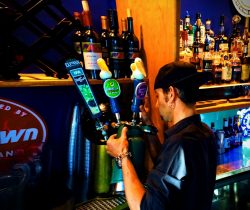 We love to visit breweries! When we lived in Seattle we'd swing by Georgetown Brewing often to get a growler.  Since moving our family across the Puget Sound, we don't do that too often, but when we do want to get something wonderful from a local brewery or while we're traveling, it's nice to use our Stanley Vacuum Growler.
Note:  if you're putting beer in it, be sure to not be startled when you undo the latch and it makes a fun popping sound.

Tip:  most places that will fill growlers know to use an extension on their tap to make filling smooth and prevent too much head on the beer, but if you notice them not doing that, they may have a different technique or maybe haven't used the extension tool before… so it's okay to politely mention if you feel you need to.
If you're not familiar with the idea of a growler it's pretty simple:  use it like a big jug to tote your favorite beverage around.  We use it for beach days when we need to bring juice or iced tea to our local picnic spot, we use it to get great microbrews to take home… and we use it for just plain old ice water.
What makes the Vacuum Growler one of the super cool Stanley products?  It keeps beverages really cold for 24 hours. It's pretty awesome for a road trip when you know that you don't want to repeatedly buy cold bottled water.  Also, since it's stainless steel, there's no concern about weird plastics either contaminating your drink or breaking down over time.
Tip:  at home, we range all over our property, from our deck to the yard to walking down to our local beach.  We fill the Stanley Vacuum Growler with ice water and tote it everywhere.  You always hear us preaching about keeping kids (and adults) hydrated.  This is a great tool since drinks stay so cold.
The Stanley Stainless Steel Pint Glass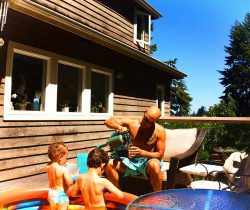 Besides the obvious use of a stainless steel pint glass for chilly beer, there's other things it's good for.  Despite being an open-top drink cup, the Stanley stainless steel pint glass does an amazing job retaining drink temperature.  I know, you're hearing this theme, but when you're either a dad-on-the-go or just chillin' in the sun with your kids, beverage temperature should be the least of anyone's worries.
Funny story:  we were having a pool day in 85 degree weather.  I had an icy drink in my stainless steel pint glass and the sun had been beating down on it.  I went to grab the cup, which was still full of ice, and totally jumped when I felt how hot the metal was.

Lesson:  just because it's keeping a drink cold doesn't mean that it's not metal and gets hot to touch if left in the sun.
The other nifty feature of these is that they're stackable.  We're big campers and it's nice to have non-breakable pint glasses to bring camping and reuse instead of toting plastic cups or disposables around.  And if anybody is reading this and doing some Father's Day shopping for us, we could use two more of the Stanley Stainless Steel Pint Glasses.
And our final recommendation (totally for fun)…
Stainless Steel Shot Glass Set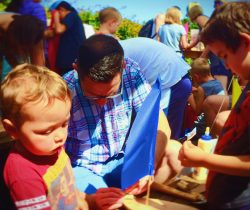 Okay, we don't venture down the path of shots… ever, but it's a fun, novelty type Stanley product that we have on hand.  It's fun to know that we've got handy shot glasses and such in our camping gear if we decide to pull them out.  The primary use for us is for the kids to have cute little cups to play with and bang together to scare the mountain lions away, but they're there if we adults need them too.  Especially after a long day of dadding… and building boats with a hundred other little people…
Tip:  like with any new kitchen or drink ware, be sure to wash stainless steel products before use, as it's a healthy thing to do as well as will help if you're sensitive to metallic tastes… which you'll experience if you don't wash the shot glasses well first.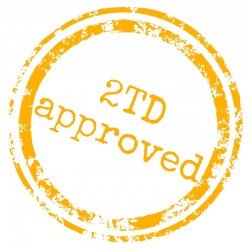 We love our variety of Stanley products and use them both in everyday life and when we travel with the kids.  Dadding can be tiring and frustrating sometimes, but it's nice to have helpful tools to make it easier.  Like we said, when life is happening, you don't need to also worry about your coffee being cold or spilling, or bringing home glass bottles in the car, or breaking things while camping.  Part of our #Stanleyness is being the cool dads that have the cool gear, and all of our Stanley stuff definitely elevates our "dadding" to the next level of cool.