Kissimmee: take our winter woes away
We're just done with winter.  Done.  True that we're not facing any blizzards here in the Seattle area, but you know what we do have?  Cold rain.  Not necessarily hard, crazy rain that leaves you in awe, but the kind of rain where it's really chilly out and the drops get on the back of your neck while you're walking to your cold car and you're cold… And we're inside so much right now.  We don't want to be another statistic in the epidemic of cabin fever.  But wanderlust sets in and we look for great family travel destinations to escape to… and then Kissimmee pops up into our searches.  We #LoveFL but we've not been to Kissimmee yet.  So, here's why we're thinking that if we go experience Kissimmee it's going to solve our winter woes (and they've asked us to share why it sounds awesome for some family travel).

Driving Excitement – I'm tired of slick roads and impatient drivers.  I discovered that Kissimmee has a multi level go-cart track.  Maybe we're not spending our week at Fun Spot America, but we can easily spend an afternoon just chillin' and taking turns playing with kids while us adults ride the skycoaster and driving fun little cars.  It's just what us adults need sometimes.  And there are other cool attractions beyond reckless driving opportunities, like dinner and a show maybe, or space oriented afternoons (the Space Center is driving distance).  Peek at Experience Kissimmee to see why we're thinking about MANY choices.
Tip:  if you've not been to any sort of amusement park with kids yet, depending on the child, it may be a good idea to let them know that some rides have height restrictions.  We faced some disappointment in St Augustine when our oldest couldn't climb the lighthouse.  Just something to think about.
Nature – if you've been following our blog, you know we love nature, from National Parks to just the beach.  Um, Kissimmee has a genuine Florida swamp!!  We've been plotting out our Everglades vacation, but Wild Florida Airboat Tours or a few other options will more than suffice in the meantime (as it's looking pretty awesome).  I told our oldest about swamp boats and he thinks they sound weird…which is motivation to show them that, yes, they are weird, but so cool!  And we're never ones to just stay indoors.  Here's the video that sold me (Rob) on doing an airboat tour (and you can see a few other cool things):
Also, Kissimmee has camping and canoeing and other things that we normally do on vacation.  When we were recently in St Augustine we really wanted to explore Florida's waterways, so we could easily work in some nature time between all of the other activities.  Yeah, no chance of being bored or feeling trapped here.  That's a big plus.
Tip:  if you don't do things like kayaking and canoeing at home, vacation is the perfect time to try new activities out.  We do kayak a ton, so for us vacation is a chance to do something we love in a different place.
Kid fun – the biggest influence in choosing a family travel destination is picking a place that has kid activities.  Sometimes this just means a pool to break up a long drive, but then there's also dinosaurs.  If you have ever spent time with a four year old, you know that dinosaurs are as important as eating lunch.  Very important.  I think that we can't experience Kissimmee without hitting Dinosaur World.  Again, we've got somebody that thinks this sounds weird, but so cool.  And if you as an adult aren't intrigued by the opportunity to see 200+ life-sized dinosaurs, where's your imagination?  Family travel is about finding stuff for everybody, and Dinosaur World sounds awesome.
Tip:  you know that we love to stroll around a town to get the feel of a place (like we did in St Augustine), so it's good that Kissimmee has an historic area too.  It looks and sounds similar to San Diego's Gas Lamp area, so we know how our family will enjoy the experience.
Water Slides – finally, we're at a point with the kids that they BOTH enjoy playing in the pool.  Our oldest (4) loves water features like splash zones and water slides, and our youngest (16 months) finally realizes that pools are just big baths where you can scream and splash and everybody is cool with it.  So, apparently, Kissimmee has oodles of waterpark options, including two Disney water parks close by in Orlando.  We've not actually stayed at a Great Wolf or Kalahari, so this is particularly tempting to us.
Tip:  if you know you'll be doing watersports with kids and they have an easy-to-bring life vest or water wings, pack 'em.  If you don't you can always rent or purchase something at your destination, but we ALWAYS bring our own.
Gatorland – previously, we wrote about our day at the St Augustine Alligator Farm.  We had an incredible time there.  After reading some reviews and seeing what other families thought of Gatorland, we now need to check it out.  And like the Alligator Farm, Gatorland has a zipline.  I'm not sure why, but us two dads really want the thrill of zipping over gators and crocs (safely).  The kids are both too young to do the ziplines, but we sure aren't! (it's okay to do big kid activities during family travel!)
And then beyond Kissimmee – so, we can easily spend at least five days filling our time with attractions and pools and the likes just in Kissimmee, but then Orlando is directly next door, so we've got Walt Disney World and Universal Orlando to check out.  While our kids are still too young to appreciate and not be overwhelmed by Universal, the Magic Kingdom is always a good idea.  We took our oldest to Disneyland and he loved it.  Only one of us has been to the Magic Kingdom, so it only seems natural that we all go together…
Tip:  Walt Disney World is huge.  HUGE.  It's worth doing a little research and reading a few blog posts before you show up to the park… or parks and stand there like "Okay, let's do everything in two days…"  Yeah, no.  Disney Parks are magical, but they require some time.  We've done Disneyland with a toddler, so Walt Disney World is next for us!
Our next step is to price accommodations and check availability, but based on our initial research, it doesn't seem that there will be a problem with either.  There are oodles of vacation home rentals  We started by looking over the Experience Kissimmee website and were glad to find an actual hub of information.  Of course there are large booking sites like Expedia and such to book through, but the Kissimmee site puts hotels, vacation rentals and other random lodging all together so you can see the gambit of what's available.  On first glance, we're perusing resorts since we know that we're looking for a completely stress free, centralized, one-stop-shop for everything.
Tip:  if you're not big hotel travelers, take a little time to think about how much room your family needs to function happily.  Example:  we know that we're happiest in a junior or master suite in any hotel.  We know that we need some space to play and that there will be a crib/bed set up beyond what's naturally in a room.  Consider this when booking accommodations.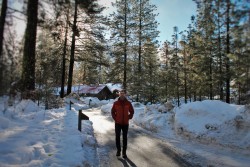 Give-away Opportunity:  Experience Kissimmee has a giveaway open through March 27 and it includes almost everything you need to have a trip like what we're looking at doing, including airfare for four; a trip designed to escape the cold.  Um, while this is a sponsored post and it's my duty to encourage you to enter, I have to say that I'd like us to win.  There.  I said it.  I would like to win.  Get us into the sun!!  We must escape the cold!!
We're not sure what exactly we'll pick or if we've committed to Kissimmee to get us into the sun and escape the cold, but at the moment, this is our #1 choice to break away from this Seattle rain.  We like that it's not exactly Orlando and that it's not got the big-city feel.  We like that being in Kissimmee isn't a commitment to spending a week in amusement parks.  We like that we can have a completely chill week of family travel…or family relaxation.  Now, we just need to get there…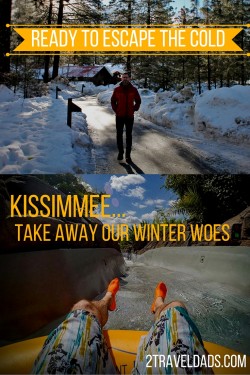 Want to pin it?  Go for it!!