Planes, trains and automobiles… and boats
I hated flying for the longest time.  I hated waiting to board, being delayed, taxing for what seems like hours, taking off, turbulence, landing, bumpy landings, sitting on the tarmac waiting for a gate, trying to collect carry-on luggage, trying to collect checked luggage, navigating a new airport… I could actually go on for twenty minutes about this.  Anyways, having a kid changed how I viewed travel.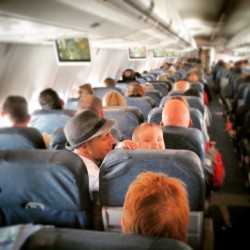 When you travel with a child, you now have to demonstrate patience, tolerance and bravery from the moment your alarm clock goes off until you are at your destination and said child is asleep.  So, if you don't already love to fly and then you've got a tiny person depending on you to keep them safe and happy, you have to adjust your mindset from the get-go.  This means staying chill, being prepared with entertainment (on plane or airport or tram or car or subway…), and being flexible to adjust your course at the drop of a hat…or a stuffed animal.
Planes:  Our first flight with the Panda was SEA->BWI:  cross country bliss.  We didn't know what to expect regarding how our son would behave on a plane.  You know how some kids scream and cry and kick seats for an entire flight?  Yeah, that's what I was worried it would be like.  Apparently we've been blessed as sleeping seemed to be what Panda was looking for out of a flight.  Having a stopover to stretch legs and breathe different air was great.  He loved it…and then fell asleep on the second leg.  Same story for the return flight.  Come to think of it, he's almost four years old and that's still his M.O.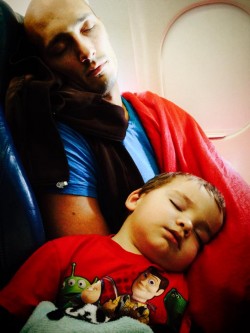 To prepare for what lay ahead though, we didn't really need in-flight entertainment, we came stocked with a selection of Megablocks (future trips we brought Duplo), some
random baby toys (nothing that made noise), books, and an iPad (because, you know, technology).  As Panda's gotten older and requires more stimulation between in-flight naps, we've added a limited number of cars, ponies and coloring supplies.  We also now have learning games on the iPad that function without too much noise.  **see Kids Products page for more details.
Tip:  have a sippy cup at the ready to help with ear pressure during take-off and landing.  Gum isn't an awesome choice to help a little kid deal with this as they might just swallow it before it's served its purpose.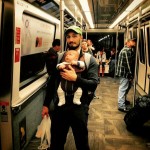 Trains:  Ever taken a stroller on a subway?  It's fun.  It's so awkward and everybody watches you the whole time:  "will they get in before the doors close?!" and "ooh, please don't run over my exposed toes," oh and the look of "wow, you guys take up a lot of real estate on this uber-crowded train."  Well, that's life, right?
What I think we learned right away is that there's always another train.  If the train is too crowded and you're not on a tight schedule, hang for a few and catch the next one.  If you're expected somewhere, tell the other people that you might need their help getting on safely – they'll understand and probably won't mind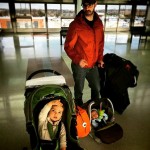 squeezing in after you.  Oh, and if your using a stroller with a shade be sure to put it down.  It can act as a partial germ shield.
Tip:  for babies, taking a mass transit train is easiest with a baby in a pack.  For toddlers and up, the stroller is great to keep a mobile child close when there are lots of people around.  Prefacing a trip with a safety talk about being on a train platform is recommended.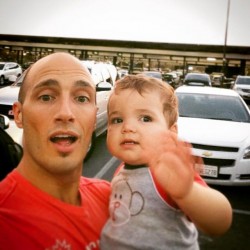 Automobiles:  I love renting cars.  It's like a really long test drive where you can program the radio stations.  What I don't love about renting cars – it means you have to travel with car seats.  Before purchasing our first car seat, we researched a ton and found a highly rated one that could fold in half and blah blah blah.  Yeah no.  What we got didn't easily fold and due to its sturdy construction, weighs 900 lbs.  Go us.
Anyways, when looking at car seats to purchase that you'll someday travel with, peek at the weight and go for one with great safety ratings and that's lightweight.
When you're at the airport with your car seat and child and luggage any everything, take a moment to ask a clerk if you can check your stuff using a priority counter (even if you don't have that status).  We've found that airline employees are really into helping families get through swiftly.  I figured out why:  a tired, loud, cranky group that includes screaming children make not a happy time for anybody, traveling or working at the airport.
Tip:  remind older kids that this car is being borrowed and needs to be treated well…or you'll get the bill for crazy kid antics after the fact.
and Boats:  We live in the Seattle area.  This means we are surrounded by boats.  We ride the ferry…a lot.  We have friends with a sailboat.  Family vacation includes going to the lake and inner-tubing.  We kayak.  Yeah, there's a lot on boat action in our lives.  Kids love boats!  Kids get excited on boats!  Kids forget about safety on boats L.  Something we've learned is that as a means of fun, travel or new experience, taking the boys on boats is different each time.  As Panda grows and gets adventurous, he likes to slip away from my handgrip of steel.  As the Koala grows, he's a lot more wiggly and I find myself staying far away from the edge…at all times.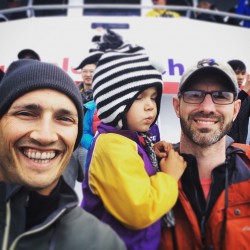 Recently, we got to take our oldest son whale watching and it was great!  Just like any other time though, despite the safety talk from us and from the crew, he wanted to run, to break free, to see if his foot does actually fit between the rails.  In the moment of the talks, he's totally on board for safety, but the when there's a whale, or there are kids in another area, or "look at that!" the safety conversation has completely left his memory.  I guess why I'm saying this is because boats are great and they add something fun and adventurous to both travel and everyday life, but they pose plenty of danger in a split second.
Tip:  before committing to a day on a friend's boat, confirm that they have the right sized child PFDs.  Kids are all different sizes and not all life jackets are created equal.
Tip 2:  being on a large boat, like a ferry or tour ship, can be very relaxing for everyone.  Enjoy strolling the decks together, hand-in-hand, so that nobody gets too adventurous and ends up on the news.
Traveling by different methods is awesome and such a fun way to get a new view of the world.  Consider some of what I said above next time you're plotting a trip.  Add a short boat ride to an otherwise landlocked vacation.  Take the train to a nearby destination for the day.  Try something new.